'The Neverhood' (Also known as 'The Neverhood Chronicles') is a 1996 PC point-and-click adventure game made by US games companies The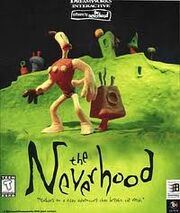 Neverhood and Dreamworks Interactive. It is based in a world made of a substance called Klay. The game was a commercial failure due to the decline of adventure games in the mid-90's and poor marketing, yet was a critical hit and still lives on with a cult following.
The Making
[
]
The game started out as an idea of a 'Plasticine World' thought up by Doug Tennapel, the man behind the game. Doug left his previous company, Shiny Entertainment and announced in 1995 that he was starting his own games company: 'The Neverhood'. Tennapel had previously created Earthworm Jim 1 and 2, and The Neverhood was made up of people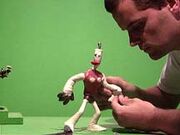 from that company and some people from Dreamworks Interactive. Dreamworks were looking for fresh, strange, new ideas and Doug found out about this need. Doug approached Steven Spielberg himself and told him about his idea of a claymation game. Later, The Neverhood partnered with Dreamworks and Microsoft and a year later, released the game in november 1996. 
3½ tons of clay were used to build The Neverhood (not 6 tons as claimed here previously).
Reference: DreamWorks Electronic Press Kit
https://archive.org/details/dreamworks_neverhood_1996
Doug's dream of a claymation dream was released on October 31, 1996 and was released in Japan on Playstation on April 23, 1998, years after the game that drove critics crazy but drove people insane was discontinued. By 1998, the sequel to The Neverhood, Skullmonkeys was released.
Story
[
]
Klaymen, the main character, suddenly wakes up in a strange world. He comes out of his sleep and gets up. He has even less of an idea of what to do than you do. After getting through a labyrinth of handles to open the door, he gets out of the house. Klaymen then finds the hall of records and has to find various video tapes to complete a set. Once all collected, the videos show Klaymen's friend, Willie Trombone telling the story of how Hoborg was once king of a world named The Neverhood. A jealous enemy, Klogg took Hoborg's crown and became corrupted by it. He then became the evil king of The Neverhood and Willie saw everything. WIllie then finds a 'Life Seed' and that later becomes Klaymen.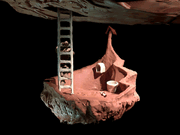 Klaymen then knows that he has to give the crown back to Hoborg and defeat Klogg.
To do this, Klaymen needs to traverse several problems and puzzles, as well as defeating the evil monster known as The Weasel.
The Neverhood has more than one possible ending, and it is also possible, unlike some games, to continue the game from just before the ending to find the other endings and complete the game fully. The first of these endings is about a third into the game, in which Klaymen finds a massive plug-hole in the ground, which will cause him to fall endlessly into space, however this hazard is clearly signposted with 'Danger' 'don't jump down the drain' 'you will die'.
The two other endings are at the very end of the game and have been given nicknames of the 'Good Ending' and the 'Bad Ending'. The bad ending is where Klaymen accepts the crown and puts it upon his own head, after being persuaded by Klogg. He then becomes corrupted himself and knocks out Klogg, screaming loudly: 'I AM THE RULER THIS WORLD NOW!' followed by an evil laugh. The good ending is where Klaymen chooses to distract Klogg and climb to reach Hoborg. Hoborg thanks Klaymen, but not before Klogg attempts to kill Hoborg with a knife. On his way to destroy the creator of The Neverhood, he steps on a remote control for his cannon. The cannon then fires and hits Klogg, throwing him into the depths of space. Once he is gone, Hoborg goes on to continue what he started, creating new friends for Klaymen (to his delight) and finishing adding to the beauty of the currently barren world. Even around his new friends, however, Klaymen misses his old friends more, with Hoborg repaying him by recreating Bil and Willie Trombone. These endings are the only instances of Klaymen actually talking in the whole game.
Main Characters
[
]
Klaymen- The protagonist of the game. He features pale skin and a red body with three white buttons. He has a compartment on his chest that opens up, allowing the player to store anything they think they may want later. Klaymen is a silent protagonist, but that doesn't mean the player can't recognize his strong morals and lovably childish curiosity.
Willie Trombone- Willie is Klaymen's best (If not only) friend in The Neverhood, and has yellow skin and a greeny-blue body. He has a head shaped like a coat hanger, and has what can be described as a 'Hillbilly' accent. Willie will also eat whatever he finds, including the arm of the Weasel.
Hoborg- Hoborg is the original creator of The Neverhood and wears a crown that can only be worn by him, otherwise the wearer will become corrupted and evil, as proved by Klogg and Klaymen if the player chooses the bad ending. Hoborg then recreates The Neverhood and brought the dead back to life.
Klogg- Klogg is virtually proof that curiosity can kill the cat. He was curious of what would happen if he wore Hoborg's crown and became the menacing king of The Neverhood. This royalty lead him to make The Neverhood a little bit more 'Evil' and Hoborg became less and less known. The Neverhood later became a barren wasteland with seemingly no-one living there.
The Weasel- The Weasel is an evil monster defeated by Klaymen. When summoned with a familiar nursery rhyme, he chases Klaymen and is defeated by eating a Klaymen-shaped dynamite dummy. This created a convenient arm snack for our friend Willie Trombone.
Big Robot Bil- Bil is a robot created by Ottoborg, which Klaymen brought back to life. He has a good and bad switch, which obviously changes whether he is good or bad. He has two left arms and wears a tie loose. He is also fairly rusty and sound like he could do with a good amount of oiling. He frequently says 'Me Bil' very loudly and deeply.
Bil's Bear- Bil's Bear is very large and blue. The Clockwork Beast destroyed it, which then motivated Bil to destroy him. Bil doesn't go anywhere without his bear, and always carries him under his arm.
The Movie
[
]
The Neverhood movie was confirmed in a magazine article on 25 June, 2007. This was set to be one of the first projects from a newly formed company, Frederator Films, a company specifically made to produce films under a budget of $20 million. An IMDB entry said that it would be released in 2011, however, this entry is now deleted from the site, as Doug Tennapel announced on his blog, Newt World, that the Neverhood Movie was dead.
Soundtrack
[
]
The Neverhood's soundtrack, Terry S. Taylor's Imaginarium: Songs from The Neverhood has been named as one of the greatest game soundtracks of all time. It was all composed and written by Terry Scott Taylor,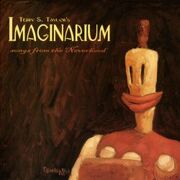 who won GMR Magazines 'Best Game Music of the Year' award. The game's songs are hard to find in the game itself, but on the disc, it is clear which scene they are from.
List of Songs from Soundtrack.
[
]
"Klaymen Shuffle" – 1:45
"Olley Oxen Free" – 1:20
"Everybody Way Oh!" – 1:37
"Rock and Roll Dixie" – 1:12
"Cough Drops" – 1:45
"Skat Radio" – 2:03
"Lowdee Huh" – 1:27
"Klaymen's Theme" – 2:42
"Operator Plays a Little Ping Pong" – 1:11
"Jose Feliciano" – 1:53
"Homina Homina" – 1:31
"Potatoes, Tomatoes, Gravy, and Peas" – 1:19
"Triangle Square" – 1:08
"Dum Da Dum Doi Doi" – 1:54
"Southern Front Porch Whistler" – 1:23
"Confused and Upset" – 0:57
"The Neverhood Theme" – 3:23
"The Weasel Chase" – 1:33
"Pulling of the Pin" – 2:56
"The Battle of Robot Bil" – 2:46
"Klogg's Castle" – 2:36
"Time to Goof Off" – 2:37
"Klaymen Takes the "A" Train" – 1:00
"Low Down Doe" – 0:50
"Gargling Drummer" – 0:38
"Resolution #8" – 1:03
"An Elf Sings His ABC's" – 0:28
"Thumb Nail Sketch" – 1:11
"I'm Thirsty, I Need Wahwah" – 0:44
"Sound Effects Record #32" – 1:41
"The Laughing, Crying, Screaming Masses" – 0:55
"Sound Effects Record #33" – 1:43
"B3, B.C." – 0:28
"Coffee and Other Just Desserts" – 1:30
"Spring Has Sprung" – 0:57
"Chiming In" – 0:46
"Scary Robot Man" – 0:43
"Playing Pool in Outer Space" – 1:41
"Down in the Mines" – 0:27
"Olley Oxen Free (Early Demo)" (Bonus Track) – 1:11
"Rock and Roll Dixie (Early Demo)" (Bonus Track) – 1:03
"Jose Feliciano (Early Demo)" (Bonus Track) – 1:30
"Klaymen's Theme (Early Demo)" (Bonus Track) – 2:17
Re-Release
[
]
In 2011, it was announced via social networking sites that developers are working on a version of The Neverhood for more modern systems, like iPod, iPhone, iPad, Android Phones, Android Tablets and Windows Phone. That project seams to have been halted as in 2014 no such versions has been released.
Electronic Arts (EA) owns the rights to The Neverhood, any eventual re-releases for any kind of console has to be approved by EA.
References:
Klaymen, Klaymen
[
]
A japanese version of The Neverhood was released in Japan for Playstation in 1998. This is roughly translated to have a title of Klaymen, Klaymen. The sequel to The Neverhood (Known in Europe and US as Skullmonkeys) was released in Japan also on Playstation named Klaymen, Klaymen 2.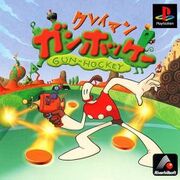 A Japan-Only Spin-Off of The Neverhood, Klaymen's Gun Hockey, was released after Klaymen, Klaymen 2. This featured characters from The Neverhood battling it out in a game of air hockey using guns to fire the puck. As the Neverhood series was such a big success in Japan, so was the latest game from The Neverhood, Inc., Boombots. This game was also released on Playstation for European and US gamers in 1999. In this game, Klaymen featured as a secret fighter that you had to unlock.
The Neverhood Sales & Distribution
[
]
The Neverhood is estimated to have sold over 50,000 retail copies, based on an evaluation of Microsoft and DreamWorks accounts. An additional 600,000 OEM copies were purchased by Gateway and pre-installed on their computers. Over the years it turned out that The Neverhood also received a huge fan base in Russia and Iran as a result of the massive bootleg copying and distribution of pre-installed games on PC's.
References:
http://www.igameresponsibly.com/2013/06/18/exclusive-the-neverhoods-mike-dietz-the-industry-is-stuck-in-a-rut/
According to Microsoft, The Neverhood is an 'Underrated Game'. (source needed)